Vijay Iyer Sextet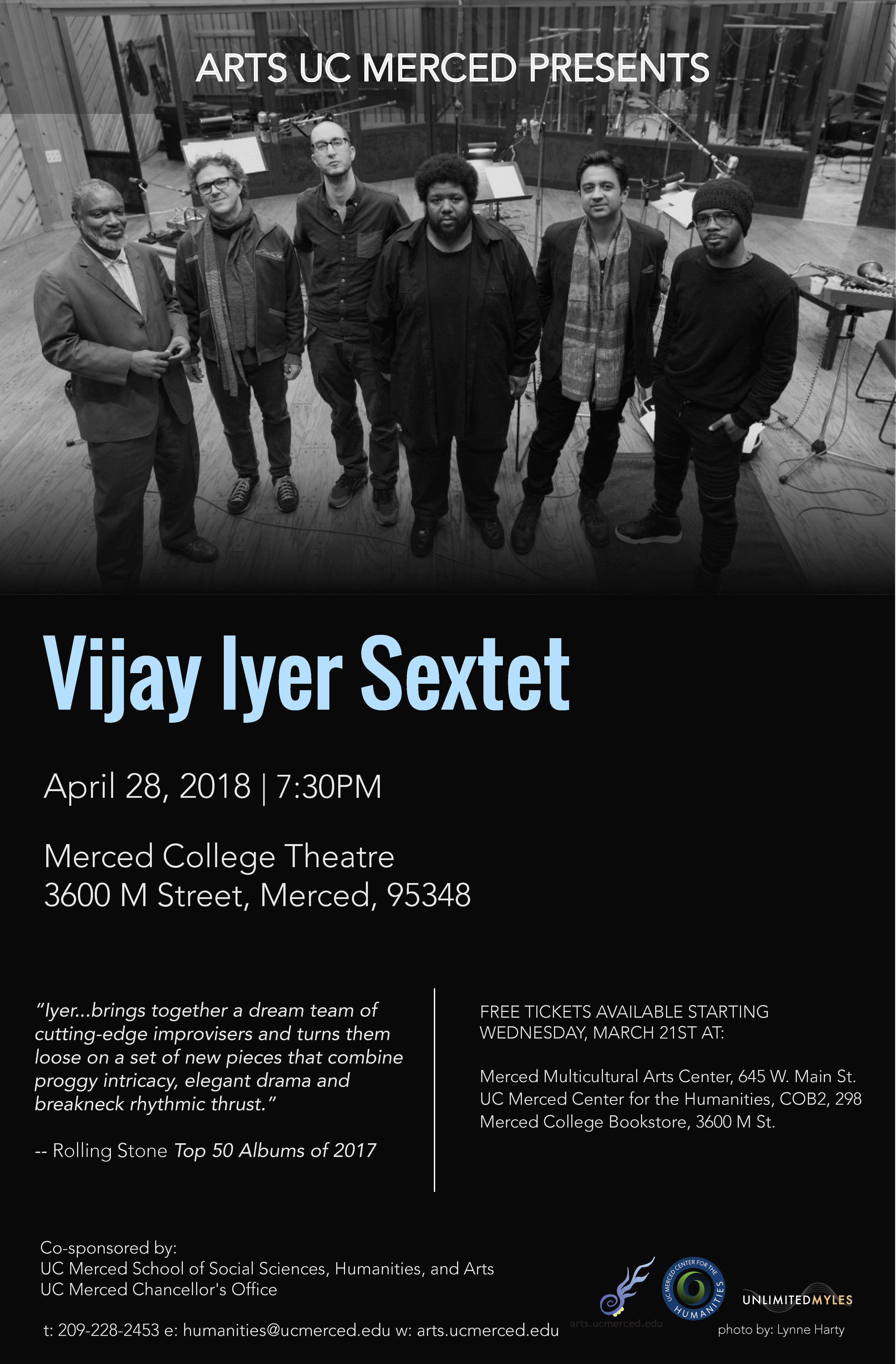 Vijay Iyer Sextet, In Concert
Saturday, April 28th, 2018
Merced College Theatre
3600 M Street, Merced, CA
Arts UC Merced Presents is thrilled to welcome the Vijay Iyer Sextet to Merced for a free concert on Saturday, April 28th at the Merced College Theatre (3600 M St., Merced, CA). Iyer is a Grammy-nominated composer-pianist described by Pitchfork as "one of the most interesting and vital young pianists in jazz today." The L.A. Times praised the Sextet's recent album Far From Over as "rambunctious" and "furiously funky." Rolling Stone named Far From Over one of its 50 Best Albums of 2017, writing that "Iyer...brings together a dream team of cutting-edge improvisers and turns them loose on a set of new pieces that combine proggy intricacy, elegant drama and breakneck rhythmic thrust"; it was the only jazz album to appear on their list. Iyer is the Franklin D. and Florence Rosenblatt Professor of the Arts in the Department of Music at Harvard University.  
Free, limited tickets remaining.
Tickets must be picked up in person at one of the following locations:
Merced Multicultural Arts Center, 645 W. Main St., 2nd floor, Main Office, Tuesday-Friday, 9am-4pm LESS THAN 15 TICKETS LEFT (Updated 4/24)
UC Merced Center for the Humanities, 5200 N. Lake Road, COB 2, Room 298, Monday-Friday, 9am-5pm SOLD OUT!
Merced College Bookstore, 3600 M St., Monday-Thursday, 7:45am-3:00pm and 5:45pm-7:15pm; Friday, 7:45am-3:00pm LESS THAN 40 TICKETS LEFT (Updated 4/24)
No reservations by phone or by email. Maximum 2 tickets per person.
If additional seats are available on the day of the concert, they will be filled on a first come, first served basis.
Box Office/Lobby opens at 6:30pm; Theatre doors open at 7pm; Concert at 7:30pm.
Ticket holders must be seated by 7:15pm or your seat may be released to the waitlist.
Relaxed parking will be in effect in the lots surrounding the theatre on the evening of the concert.
This concert is presented by Arts UC Merced Presents and co-sponsored by UC Merced Center for the Humanities, UC Merced's School of Social Sciences, Humanities and Arts and the UC Merced Office of the Chancellor.
Learn more about Vijay Iyer here:
vijay-iyer.com
twitter.com/vijayiyer
facebook.com/vijayiyermusic
Event Location
Merced College Theatre, 3600 M. St